Champions' League Final
| | |
| --- | --- |
| Barcelona 2 | |
| Manchester United 0 | |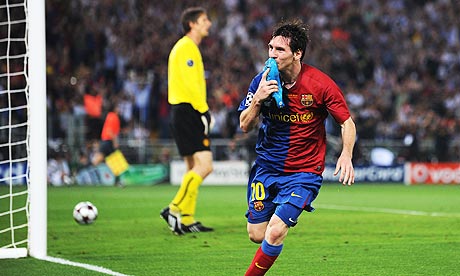 It really did turn out to be an unforgettable final. Manchester United, in particular, may fail to rid their minds of galling memories on the night when the European Cup was taken off them with unwavering technique and flair by Barcelona. Until this United had never lost one, but virtually from kick-off here it looked as if the experience awaited them in Rome.
Perhaps there will be comfort in the knowledge that Pep Guardiola's side had outdone itself. All the reservations about their back-four evaporated on this hot night, because Barcelona simply would not allow themselves to be subjected to sustained pressure. Their midfield could always pass a way into the comfort zone.
United are a side awash with knowledge and confidence, yet those qualities are no protection against the shock that follows the loss of a goal so early on a night of this importance. There was bad news then, wherever Sir Alex Ferguson's players looked. In their own ranks Michael Carrick floundered in midfield, Wayne Rooney was marginalised and a customarily secure defence quaked.
Matters had turned out well for Barcelona, with the marvellous Andrés Iniesta betraying no signs of the injury that had put his participation in question. He, in particular, outclassed United by himself at times, particularly when he was setting up a goal in the 10th minute.
United gasped, because that blow was landed on them just when they must have supposed there was pain to come. The holders' initial assertiveness was exactly as anticipated, particularly since there was an urgent desire to examine a Barcelona defence recast following the suspensions for Eric Abidal and Daniel Alves as well as Rafael Marquez's injury. Yaya Touré, a holding midfielder press-ganged into centre-back, hinted at his shortcomings with an almost comic immediacy as he body-checked Anderson in bewilderment after a minute.
Cristiano Ronaldo's free-kick was blocked tentatively by Victor Valdes and had to be hacked away for a corner. Then, with nine minutes gone, the Portuguese put a shot wide with his left foot. This spell was soon shown to be fraudulent in the promise it made United.
Barcelona were barely disturbed as they crafted a goal. It was elementary for the hypnotic Iniesta to run free of Anderson and Carrick before picking out Samuel Eto'o. The striker's run mesmerised Nemanja Vidic and the Cameroon striker was clear. The angle was unfavourable, but Edwin van der Sar could not keep out the shot at the near post.
It was a moment that showed Barcelona at their finest while revealing an incompetence in United ranks that had not seemed conceivable. In one revealing incident, Rooney rolled a pass that went out of play because Patrice Evra had delayed his run. The synchronicity that comes spontaneously when a team is flourishing had evaporated.
There was little surprise in the half-time replacement of Anderson by the forward Carlos Tevez. United's initial scheme had floundered. Sir Alex Ferguson was as good as his word, with a place in the United starting line-up for Park Ji-sung, who had not even been among the substitutes a year ago, but the South Korean's work rate alone could not unsettle Barcelona. Much more enterprise had to be shown.
Barcelona anticipated that and, if anything, re-emerged with even more desire to demonstrate superiority. There had been a plea for an incident even before Tevez registered his presence by felling Iniesta. From the edge of the area, Xavi then struck a post. Fear alone should have raised United's tempo after that.
Turning the tide was a task that looked beyond Ferguson's side as Barcelona swept over them. Fabio Capello's contention that tiredness would not be a factor was a remark about the weather, but the opposition were a different kind of natural force that does take its toll.
United were, of course, committed to responding and knew that their resourcefulness had rescued many a match in their European history.
On the tactical level, Ferguson sought to have Ronaldo and Tevez as a pairing in central attack. That is a throwback strategy and it goes against the grain of the contemporary United. On the other hand, the team had been markedly inferior when playing the match on the pass-and-move terms of Barcelona.
Work-rate had been devalued as well, with Park removed so that the elegance of Dimitar Berbatov could be applied. Prior to that there had been stirrings, especially when Rooney, now on the right, came close to setting up Ronaldo in front of the posts. This effort, however, was not sufficient to deter Barcelona. With 70 minutes gone, Xavi crossed deep and Messi headed back across the goal to beat Van der Sar. The mockery of the Argentinian for his travails against Premier League clubs had not been wholly quietened here, but that goal cowed critics, much as Barcelona had outclassed United.
Oddly enough, there was a half chance almost immediately for United, but Ronaldo could not force the ball past Valdes and a corner was conceded. Ferguson's team were helpless and Paul Scholes, a substitute, should have seen a red card rather than a yellow for his two-foot leap at Sergio Busquets.